Specialist- Dr Sameena Choudhry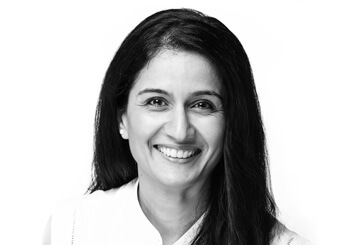 GDC 78027 Sameena is a specialist Endodontist with a very friendly approach and gentle manner with patients, helping patients stay relaxed and comfortable during their treatment.
GDC Number 78027
Dr Sameena Choudhry, Specialist Endodontist
Sameena  qualified at Bristol Dental School in 2000 and spent the following few years in the Southwest gaining experience first in hospital and then in practice. She was awarded membership with the Royal College of Surgeons of Edinburgh in 2002.
She has undertaken various postgraduate courses in implants, cosmetic dentistry and advanced restorative dentistry at the Eastman Dental Institute, ensuring that she provides dentistry of the highest standard. This led to an interest in endodontics (root canal treatment) and so she completed the four-year specialist-training programme at King's College London.
As a specialist endodontist Sameena has limited her work to endodontics because it allows her to focus on this aspect of dentistry and provide root canal fillings to the highest standard.  She finds the work very satisfying and enjoyable.  Her aim is to provide treatment of the highest quality in a relaxing and comfortable environment.
She continues to develop her  clinical knowledge and skills through continued further learning by attendance on courses, conferences worldwide and reading up to date dental literature.
In her personal time she meditates several times a day and is a trained yoga teacher.  She is an avid reader and goes to the theatre regularly, especially to watch plays. She enjoys travelling and loves to experience the different cultures around the world and especially the wonderful cuisines!