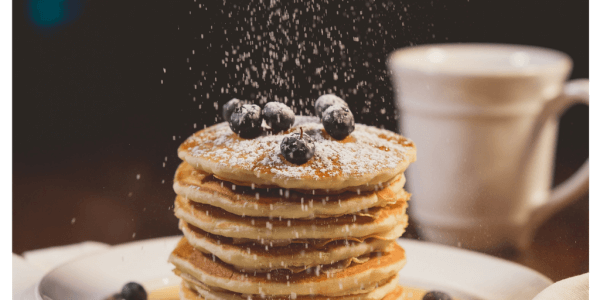 The year is flying past and already we're eating pancakes.  The only requests from my children have been for a certain, famous chocolate spread and bananas to accompany their delicious, hopefully wafer thin pancakes.  But, when we are all trying to cut back on sugar, what else can we choose this Shrove Tuesday to tempt us away from the traditional toppings?
I have been searching and have come up with what I believe are mouth-watering alternatives.  See what you think.
Stewed Apple and Cinnamon.
Cinnamon is a spice that adds a beautifully sweet flavour to any food, it's especially great when paired with stewed apples and gives a wonderfully warm, sweet aroma to porridge aswell. Try layering to make an American pancake stack with natural yoghurt too.
Almond Butter and Banana.
Slice 1 banana with 2 tablespoons of almond butter in the microwave, until it is pourable, then drizzle over your pancake.  (Serves 1)
Strawberry, Cherry and Vanilla.
Mmm. Who could resist the combination of strawberries and vanilla? When mixed with cherries too, surely it's a winner? Simply combine a small cup of hulled strawberries, an equal quantity of pitted cherries (I use the frozen ones, defrosted first) and mix with a teaspoon of the finest quality vanilla essence or paste you can get hold of.  You could also add some chopped up walnuts to add some texture on top.
Banana, Vanilla and Cinnamon.
Again, the sweetness here comes naturally from the spices. Chop up a banana (I always use the ones that have been sitting around and have gone brown), and mix with a teaspoon of vanilla and sprinkling of cinnamon. Heat in the microwave until it breaks down and creates a luxurious, warm sauce.
Orange and Cocoa.
If you're really struggling to eat those pancakes without chocolate, how about a mix of orange zest with a light dusting of cocoa powder and a dollop of coconut yoghurt?
Finally, I have to share with you an alternative pancake recipe that I have used and love.  This one is fabulous with a cup of blueberries. This quantity serves 2-4 people. Don't dwell too much on the ingredients!
Bodyism Pancakes.
In a food processor, blend 100g rolled oats, 200g cottage cheese, 4 eggs and 1 teaspoon of cinnamon.  Pour a ladle of the mix into a heated pan, cooking for 2-3 minutes per side. 
Enjoy!