One-to-one mentoring is available at Hartog Dental and is the perfect way to progress your scope of practice at a time and pace to suit you.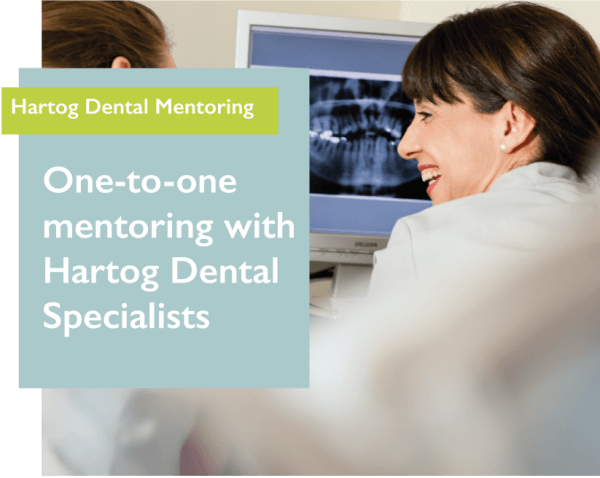 When you refer out your patients this can provide a great opportunity to follow them on their journey, building up your confidence and experience along the way. Dentists will choose cases in their own practices and then they can attend Hartog Dental with prospective patients where FREE co-diagnosis will occur.  We have found that our referring dentists love this local hands on approach and the ability to expand their scope of practice on their own patients. Most of them have also worn a little tired of doing online CPD, ticking boxes but missing the interaction with passionate clinicians so we are delighted to be welcoming them into our practice.
Along with many other professions, dentistry is seeing an increase in the development of a mentoring culture, where individuals are encouraged and supported in their personal development. There is a growing realisation that to be a good dental professional it is necessary not just to have a set of excellent technical skills, but also to be able to have a high level of diagnostic, personal and motivational skills.
In order to achieve these goals it is vital that we work together as a profession in a supportive and caring environment. Mentoring can perform an important role in these areas.
Our mentoring is relationship-oriented; it seeks to provide a safe environment where the mentee shares whatever issues affect their professional and personal success. To be helpful, mentoring requires time in which both partners can learn about one another and build a climate of trust. This in turn creates an environment in which the mentee can feel secure in sharing the real issues that impact their success and that's the really exciting bit!

To learn more about our mentoring services email becca@hartogdental.co.uk or call 01962 714459 if you would like to chat to us.
Implant mentoring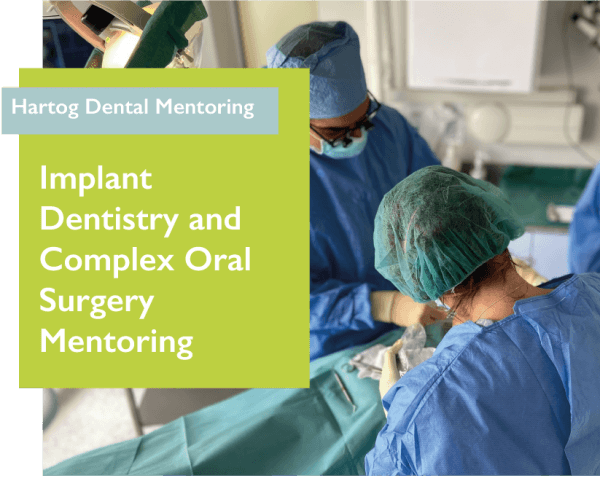 For Dentists interested in developing skills in Implant Dentistry and complex Oral Surgery.
Whatever the stage of our career, we have all been in the situation where we would like a second opinion from a dental or medical colleague or some advice on how to proceed with a specific implant case.  Our dual qualified consultant oral surgeons Sanjay Sharma and James Sloane would love to mentor you through the whole process from case selection and diagnostics to restoration and 1 year review.
The flexibility of mentoring enables you to progress your implant learning at your own rate, at a time and pace to suit you without the rigidity of a structured course. Both our Consultant Head and Neck Maxillofacial surgeons can support you with planning and placement for your individual case requirements and involve you in as much or as little of the process as you wish.
– Expert implant advice at a time and pace to suit you
– No Fee per case, no contract, the patient will simply be charged as normal for the treatment they receive
– Advice for all dentists, from VT's to experienced Practitioners
Our mentees typically go through the whole implant process from start to finish and includes:
Case selection – we will help you select the appreciate cases for your scope of practice
Diagnostics including in wax and CBCT scans, our consultant radiologist with talk you through her CBCT reports.
Surgical stent design and manufacture using CBCT and the wax diagnostics
– Bone Grafting
– Implant placement
– Restoration placement
– Review
However, you can choose to be involved in these stages as much or as little as you like.
A typical dental implant mentoring case load could include:
– Single dental implants (some in the aesthetic zone)
– Sinus grafts
– Block Grafts
– Over denture cases
– Large cases usually restoring one whole arch with several dental implants
– Minor bone grafts using bone regeneration techniques
Dentists may also wish to have help in:
– Dental Surgery Set-up
– Equipment Purchase
– Dentist /Nurse Asepsis Training
– Marketing
– Dental Photography
– Fees for mentoring usually involve the patient fee.
– This will be discussed with the dentist before any treatment is started.
– For some dentists who book several patients together we can organise a visit to your practice. 

To learn more about our mentoring services email becca@hartogdental.co.uk or call 01962 714459 if you would like to chat to us.